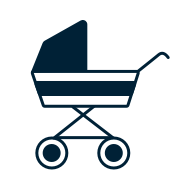 Baby & Children's Products
What does a newborn baby need? Or a child who has just learned to walk? As a parent of young children it can be difficult to know which baby products are best and where to find the most affordable products. We here at Pricespy help you find the right baby products by listing products such as prams, cots, car seats, changing tables, babygym, baby carriers and many more.
Popular products in Baby & Children's Products
Our aim is to compare offers and deals from all shops on the market. Prices are updated several times per day.