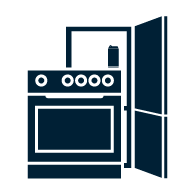 White Goods
The category white goods include household appliances such as stoves, refrigerators, dishwashers, washing machines, etc. You may want to consider whether you would like a stand-alone or integrated unit. Other important points to consider are the noise level and power consumption as well as ergonomics.
Popular products in White Goods
Our aim is to compare offers and deals from all shops on the market. Prices are updated several times per day.