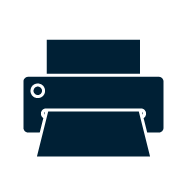 Printers & Scanners
Still, inkjet and laser technologies prevail in the printer business. In principle, all inkjets and lasers are mainly colour printers nowadays. In addition, there are a lot of models with built-in scanners which collectively provide a multifunction printer with a copier and maybe even a fax machine.
Popular products in Printers & Scanners
Our aim is to compare offers and deals from all shops on the market. Prices are updated several times per day.