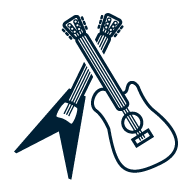 Guitars
In this category we list axes, git-fiddles, six-strings you know...guitars. Browse and compare prices on acoustics, electrical guitars and acoustics with preamps from manufacturers such as Gibson, Fender, Yamaha, Ibanez and Epiphone.
Popular products in Guitars
Our aim is to compare offers and deals from all shops on the market. Prices are updated several times per day.