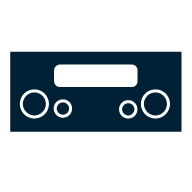 Amplifiers
Surround receivers, traditional transistor based stereo amplifiers, tube amplifiers, preamp and poweramp. Their common purpose is to take the signal from a source, (i.e. a blu-ray-player, Iphone with Spotify or similar) and amplifying it as undistorted as possible.
Popular products in Amplifiers
Our aim is to compare offers and deals from all shops on the market. Prices are updated several times per day.